Exotic and worldly designs are popular motifs for both fashion and home decor. Integrating pieces from your travels around the globe (or just pieces you like the look of) will give your home a unique and cosmopolitan design that embraces world culture and style. Some of the most popular home design trends today are inspired by non-native influences. Decorate like a world traveller with designs inspired by the places you love.
Morocco
Deep, spicy colour palettes and luxurious textiles will make your Moroccan room an inviting and relaxing space. In a post about travel-inspired home decor, Architecture Art Designs, suggests adding an intricate Moroccan rug to your living or dining room. These patterned rugs are popular throughout homes in the country or hanging in vendor shops in Marrakech souks. Implement delicate, colourful hanging lights and detailed painted wood frames or doors to complete your Casablanca-inspired environment.

France
High fashion, romance and fascinating history and architecture are all points of inspiration for French decor. For a style more suited for the French countryside, Country Living Magazine recommends using white-washed wood and galvanised metal to create a chic yet cozy atmosphere. Embrace your inner Parisian with small, romantic accent lights with a soft, subtle glow that will remind you of the beautiful "city of lights." Use clean, subtle colours and elaborate antique accents to complete your Provencal palette and don't forget plenty of fresh-cut flowers.
Thailand
Designs emulating traditional Thai decor add culture and a touch of spirituality to your space. In an interview with the Wall Street Journal, designer Vicente Wolf offers advice on how you can bring the luxurious style of a Thai home into your own. Wolf suggests creating a casual yet decadent setting, with bare wood floors and elegant furniture with long, intricate drapes and fabrics. Brighten dark colours with bright and glittery accents and add subtle pops of colour while still maintaining a neutral colour palette to keep your room calm and relaxing. For a traditional yet versatile touch, Wolf recommends using trays to hold small objects, act as an ottoman or coffee table or stand alone as a decorative accessory.
American Southwest
Southwestern-inspired prints and styles are among the most popular design trends in fashion and home decor. Traditional Mexican-style blankets are beautiful for accent pieces like couch throws, rugs and wall hangings. Implement antique prints, accessories and other decor inspired by the Old West. For some unique vegetation, cactus plants are a Southwest favorite that are easy to care for and can be grown in-or-outdoors with minimal watering.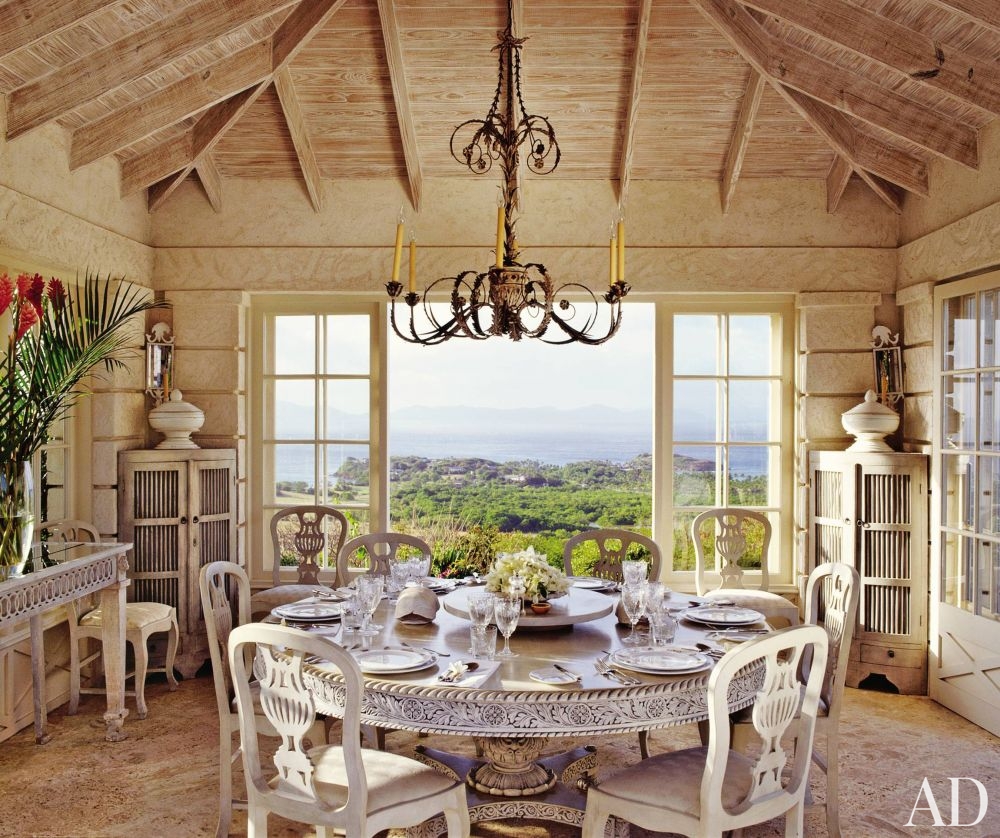 Caribbean
Clear-blue water, soft white sand and a casual, inviting setting are some of the best parts of being on the beach or an exotic island. If you want to feel like you're on a Caribbean vacation every day, incorporate some of these features into your home decor. In a recent Vogue article, Australian interior designer Sibella Court suggests using watery tones in an ombre print with curtains, rugs and furniture. For more beachy style, implement abalone-shell plates, trays or bowls with potpourri or classic seaside accessories, like seashells, pieces of coral and rocks.
Read More